So I got myself working on Nod's new style =)
And to start off, there is their Main Battle Tank, the T-300 "Fist of Nod"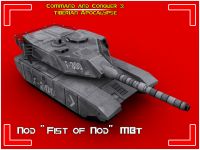 T300 "Fist of Nod". Cost: 1100 Credits.
The Fist of Nod is the Brotherhoods newest toy, with a 105mm smooth bore cannon and a double missile pod, Nod for the first time has a tank that is equal to the GDI's Titan. It's been developed a few years after the second Tiberian war, and has been put into service just recently. It has got a few upgrades in the short time it's been in service: The Armor has been replaced with a ultra light alloy, and reactive armor plates, and it has two high power blue Tiberium engines, which allow for higher speed.
Edited by Master_Chief, 19 October 2008 - 21:02.