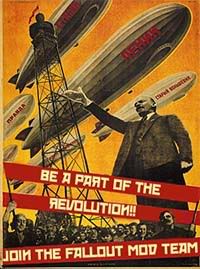 Got mapping skills? CNC Fallout wants you on the team!
As faction production wraps up and playtesting begins for the CNC Fallout Public Beta 1.0, the development cycle of mod enters the penultimate phase - getting custom maps created and implemented. An opportunity has opened up for skilled mappers to work alongside the CNC Fallout team in mapping for the mod.
Applicants must be experienced with C&C3 Worldbuilder, including the use of custom art and textures in map creation; and should send me an examples of their work. Those who I choose to join the team will be full members of the CNC Fallout team, and will have
full access to the CNC Fallout Alpha
for map assets and playtesting.
Send me a PM to apply.